Welcome to Palazzo San Gennaro - Positano
Your Villa in Amalfi Coast
Palazzo San Gennaro is a charming and bright villa which faces the sun and the sea. It sleeps eight people. From Palazzo San Gennaro you will enjoy a broad view of the Mediterranean sea and of the coast of Amalfi. Palazzo San Gennaro is 140 square meters (1500 square feet). It features two panoramic private terraces with a view of the sea and of the coastline, a private garden, air conditioning (please read description below to check in which rooms the units are installed), winter heating and WI-FI Internet access.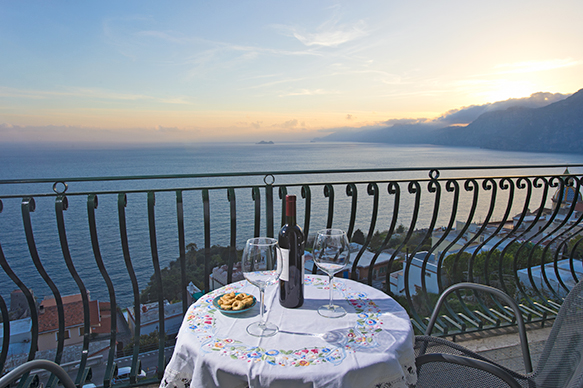 Info – Short about Us
You will not need a car to stay at Palazzo San Gennaro. If you do have one, you will be able to park it free of charge along the public roads (the actual distance might vary depending on the availability of parking spaces).
Distance from the sea: 300 m, about 328 yd
Distance from the beach: 650 m, about 710 yd
Public transportation available few meters away
View of the sea & sun deck
Air conditioning / Winter heating
Garden with lawn and organic farming at your disposal
Broadband Internet / Wi-Fi
Contact info: +39 089 811713 – +39 339 6517188 – info@crismodapositano.com
You will be in the center of Vettica, ancient fishing village of Praiano, where you will find restaurants, shops, markets, ATMs, church, post office and public transportation.
You will find the stop for the Flavio Gioia bus Positano – Praiano line a few meters (feet) away and the closest beach (Spiaggia della Gavitella) at 650 meters (approximately 710 yards) including 400 stairway steps. You will reach Palazzo San Gennaro from the street level going up approximately 110 stairway steps.
Palazzo San Gennaro - Positano
Photogallery
All the incontestable fascination of the sea and the enchantment of a gulf, seen from your villa!
Included in the price
The rental price includes: electricity; heating; Wi-Fi Internet connection; linens and towels.
Payment Terms
A 25% deposit is paid at the time of booking. The balance is due 60 days prior to arrival at the property.
Security Deposit
Upon arrival at Palazzo San Gennaro the property manager will ask you to pay a security deposit of EUR 300, payable in cash. The security deposit will be returned to you prior to your departure less any charges for accidental damages to the property.
Additional Expenses
To be paid at the property: final cleaning EUR 100.00.
Tourist Tax
€ 1.50 per person per night for the first 7 nights, € 1.05 thereafter. Guests aged under 10 are exempt.Please contact us at +39 089 811713 / +39 339 6517188 or
Contact us by filling this form